Organic Home Business Details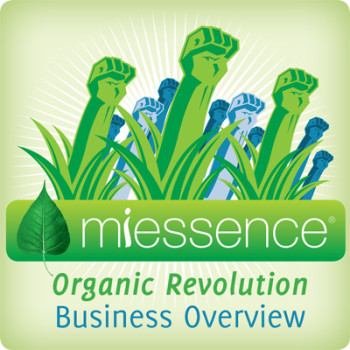 Are you interested in hearing details about becoming a Miessence rep and starting your own business sharing certified organic products of the highest integrity?
Click here to watch the Miessence Organic Revolution presentation that could change your future for the better.
The 30 minute Organic Revolution presentation will cover the following topics:
The company, the product line and the market we serve
Trends and timing
Compensation plan
The power of leveraging income
How to get started
There's a revolution happening in the way the world does business!
We believe that a successful business should:
    Offer the most pure, potent and freshly made certified organic products
    Zero harm to our environment or animals with whom we share our planet
    Maintain certified carbon negative shipping
    Ethically source ingredients
    Support and fairly pay the farmers who provide them
    Be ecologically as well as financially sustainable
    Be good for the soul as well as the body
    Provide maximum reward for effort
    Help as many people as possible
    Support your values
If Miessence is the type of business you would like to be a part of, then I invite you to listen to this special 30 minute online presentation. I'm available to discuss any questions you have on a scheduled call or via email. Use the form below to take the next steps in starting your own certified organic home business!
Inquire About Miessence Organic Home Business Opportunity