Earn An Income
Miessence has created a truly flexible business model with something for everyone. Part time or full time, you have multiple sales channels available to fit your lifestyle. Find Miessence customers on your terms and simply collect your commissions and bonuses.
E-Commerce   
Reach a worldwide audience of organic consumers on the internet as Miessence currently ships flat rate and carbon negative to over 100 countries! Every Miessence rep is provided with their own representative website. Using your website, our smart e-marketing strategies will allow you to easily reach a worldwide organic audience via Facebook, Twitter, your own blog or search engine advertising. Your customers shop your site directly and commissions are tallied as orders are placed. Internet marketing is extremely flexible and can be done from home anytime that suits you.  Miessence offers your customers repeat order discounts through our no commitment customer discounts and even deeper savings through our monthly autoship and MiRewards Program to help support you in generating repeat customer business. Product specials also give you promotional leverage.
Educational Presentations & Home Parties
Helpful, informative and fun! Public or home presentations present the fastest potential short term return on investment by quickly growing a customer base. Guests are given the opportunity to touch and smell our beautiful products, experiencing the difference firsthand. Representatives answer questions, offer information and present a few products. A personalized approach with time to talk through the benefits of organic certification and educate guests is quite effective. Spread the message to an average of 6 attendees per event, with the average attendee purchasing $120 worth of product each. Events not only allow you to sell products to those interested in organics, but you can book future events or even meet someone who would like to start their own Miessence business.

Educational seminars and party variations are endless!
Organic Skincare Group Facials
Organic Health & Wellness Seminars
Mother & Baby
Nutrition
Label Reading Seminars
Markets, Conventions & Expos   
Local events catering to the organic consumer are popping up everywhere. Becoming a vendor at an event tailored to your local target audience is a great way to gain exposure, generate a buzz and sell products. There are several approaches to take with expos that we can discuss with you, but displaying tester products and taking paper orders is a great way to earn an income. Stocking inventory for cash and carry onsite sales is also an option, although depending on your state of residency, retail sales taxes may apply.
Grow Your Own Team to Earn Sponsor Bonuses, Executive Pools and Residual Income
While the above mentioned commissions are a representative's initial source of income, our compensation plan doesn't stop there. Once you get your own business up and running, there is the option of mentoring other reps to grow your organization using the Miessence 4 & 20 Business Model. While it is your choice to sponsor others and only an option, doing so will grant you promotions within Miessence and dramatically increase your earnings creating a true Miessence business.
Miessence Compensation Plan
Additional bonuses and profit sharing pools are paid to reps as their sales volume grows, not to mention residual income from sponsoring other reps.
Details are covered in-depth in our downloadable Compensation Plan PDF and inserted in an image below.
You will see mention of Bonus Value which varies for each product based on that product's profit margins. A list of Bonus Values for each product in the line is listed here in USD.
Ready for an Compensation Plan explanation? Checkout this short webinar presentation of earning and income with Miessence. We are available for questions at any time.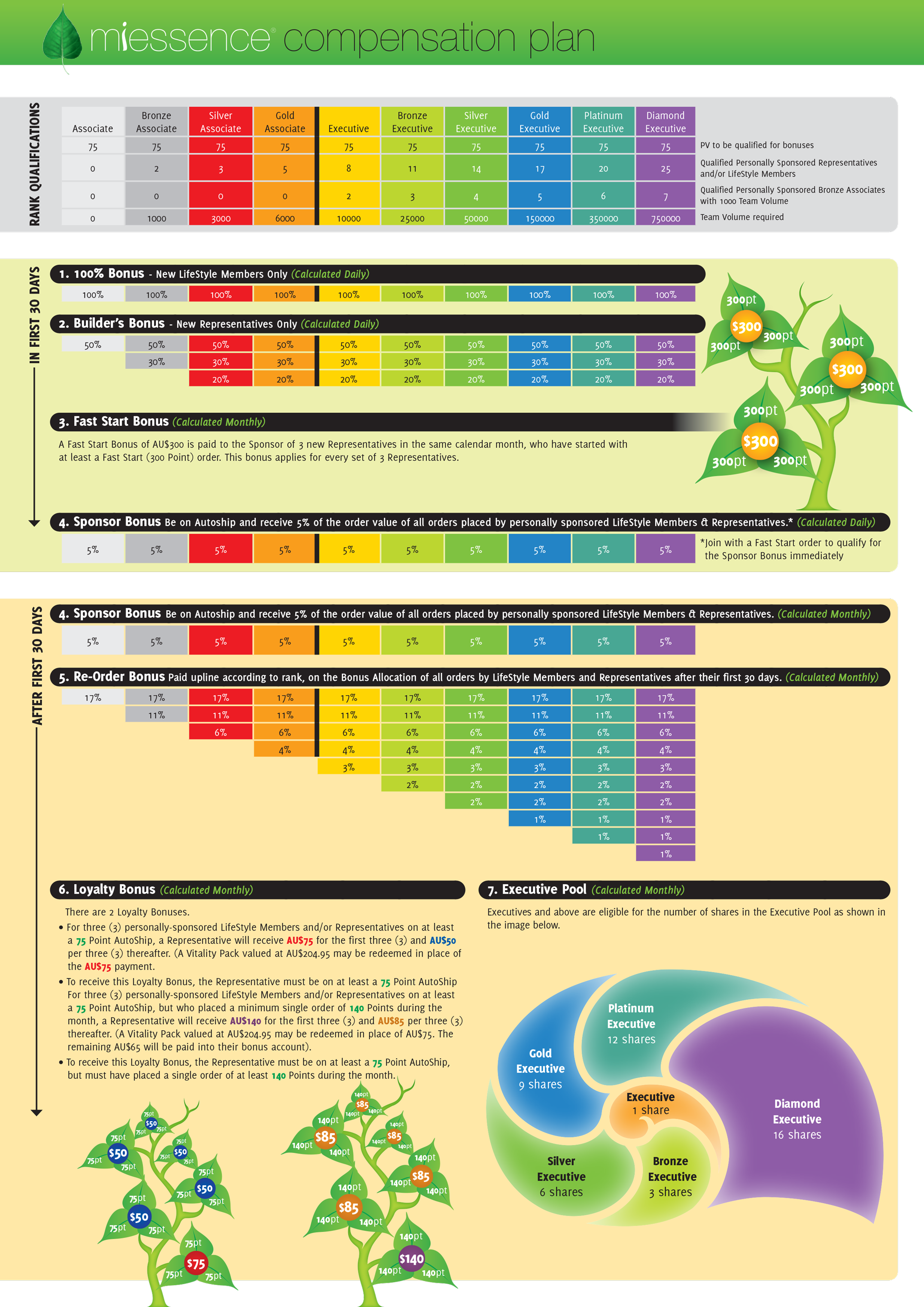 Inquire About Miessence Organic Home Business Opportunity