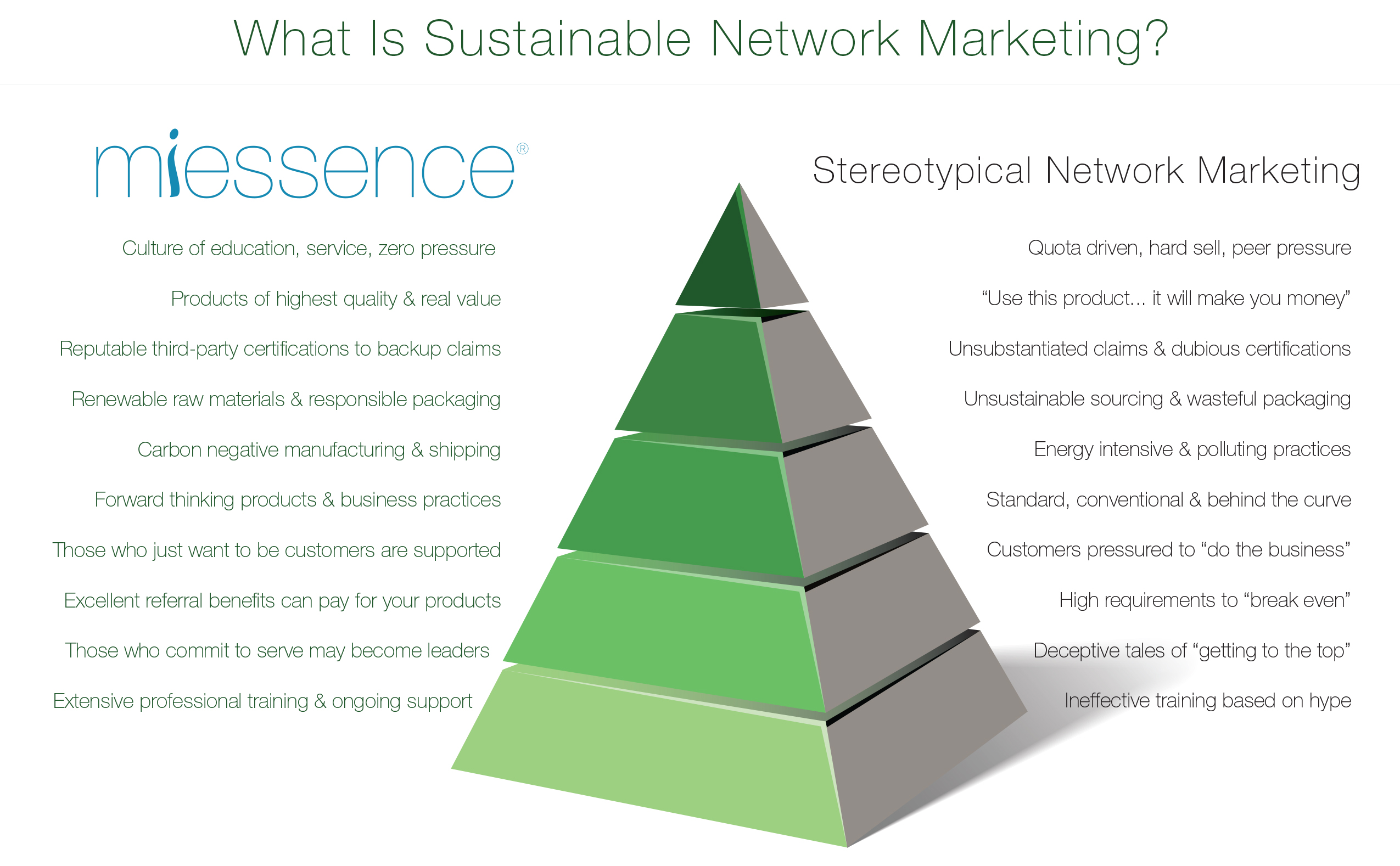 Have you had a past experience with network marketing? I'm hoping it was positive and rewarding. Maybe its a relationship that is still ongoing. If so, then you've experienced the beauty of this business model. Exclusive products sold via independent representatives who provide exceptional customer service to their customers and representatives whom they have trained. Goods or services are exchanged and reps are rewarded by the company for their success and the success of the people they support.
Unfortunately, many people have had negative experiences with "stereotypical" network marketing. On the customer side, you may have bought a substandard or hyped product because your friend started a business and was relentlessly marketing to you. On the rep side, maybe you were lured into selling a product or service with the hope of fast, easy earning potential. Reps quickly become discouraged when they discover the product was misrepresented or doesn't align with their own values. Another key component is that typical MLM companies sign people up and leave them to recoup their initial investment on their own. They aren't trained on how to connect with people outside their friends and family, people who may truly want what they are offering. This is typical network marketing at its worst… frustration, disappointment, fallout. Wasted time and wasted money. A business with high turnover (reps and customers) that is unsustainable.
Miessence is a company that produces certified organic products sold via the network marketing business platform. The "consultative" nature of working one on one with a representative is perfect for customers who need a hand to hold when transitioning to raw, organic supplements and food grade skincare and bodycare. Beyond the structure, people are genuinely drawn to Miessence's word's first organic products and its overall mission. Customers would seek out and desire to use this level of product even if there were no business opportunity attached. There is a true niche market we serve, without which no business of any kind would survive.
Miessence's unique approach to network marketing fully supports, respects and appreciates the majority of people who just want to use the highest quality organic products at a great discount. Customers are welcome to use the representative membership for access to additional savings without ever being hassled to become reps themselves. These "customer reps" have the additional option, if they wish, to refer other customers and receive referral benefits – potentially even paying for their own orders and eliminating an entire budget line. (the average US household spends $600-$1000 annually on personal care and nutritional supplements) Those who are interested in earning an income working with the company are given realistic expectations on the time and dedication it takes to succeed, extensive professional training and ongoing support in reaching their personal goals. Miessence is a breath of fresh air in sustainable network marketing…all levels of interest have their expectations met. Everyone benefits!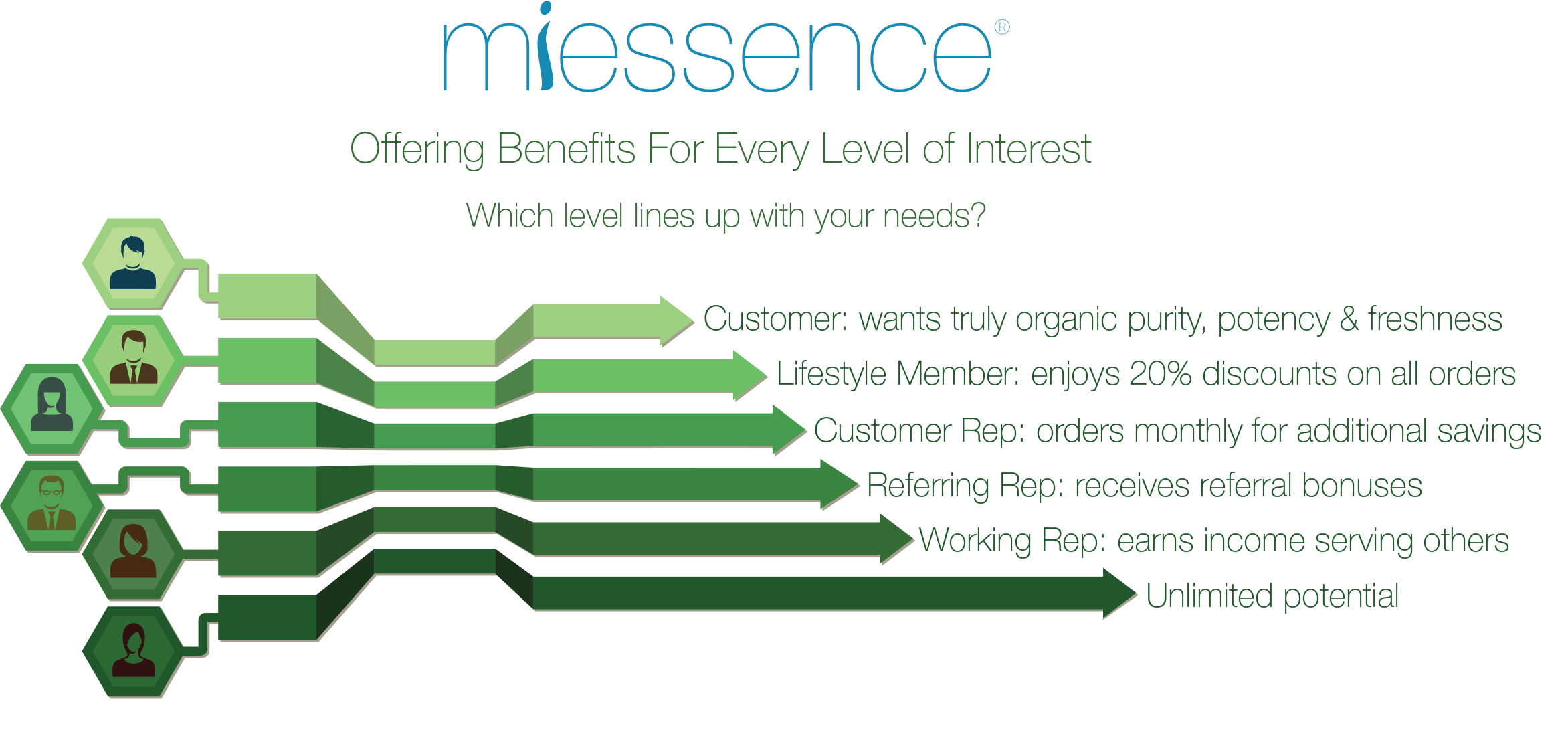 If you are interested in hearing more about starting your own Miessence certified organic home business. Please fill out the contact form below. I would be happy to discuss details with you and answer any questions you have at this point. I also have lots of business information located in the Join Team section of the website including an introductory video, overview of income generating strategies and the sign up process.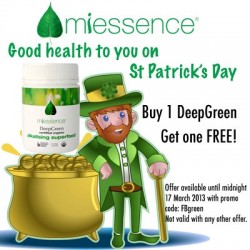 Ready for another Miessence Flash Sale? We thought so!
In celebration of St. Patrick's Day and all things green…. Buy 1 Deep Greens and get 1 FREE!
To redeem, simply add one Deep Greens to your shopping cart, then use the promo code FBgreen to add other one FREE.
Haven't heard about Deep Greens? Its a 100% certified organic and raw  formulation of superfoods with the purpose of potent alkalization and  detoxification. One look at the powder inside, you will see its potency and freshness is quite unlike anything on the market. One teaspoon of Deep Greens contains the equivalent of a 2oz shot of 5 kinds of fresh grass juice, not to mention the algae and herb ingredients! Made fresh every  30 days and shipped directly to customers. Want additional benefits and  details? Read on here…
This promo code can also be redeemed with a purchase of the Vitality Pack of all three of the Miessence superfoods. Or also the three pack of  Deep Greens. Again, just add those items to your cart and enter the  promo code FBgreen.
This offer is available to customers and reps alike until midnight on March 16th, 2013 US Eastern Standard Time. (offer says March 17th, Australian time)
Sláinte to all of you on St. Paddy's Day! (Gaelic for "to your health")
Any questions? I'm here to assist!