The Miessence Story
Narelle Chenery, the creator of the Miessence products is the past, present and future of Miessence. What started as a hobby in her kitchen has become revolutionary in the cosmetic industry, specifically in the natural and organic segment. In 2001, her pioneering willingness to leap into uncharted territories resulted in the world's first certified organic skin, hair and personal care.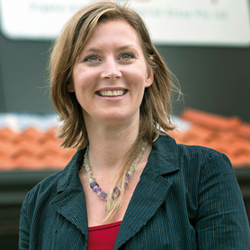 The Miessence Story
"While completing a Bachelor of Applied Science in Information Management in 1992, a friend introduced me to a new natural skin care range on the market. The company prided itself on producing the best products from "science and nature." Even though the products contained ingredients I could not pronounce, because they claimed to be from natural ingredients like coconut and palm, I just presumed they were natural and safe.
One day, soon after I began selling this "natural" skin care range to my friends and family, a cosmetic ingredient dictionary jumped out at me while I was browsing through a health food store. The dictionary told me of the dangerous properties of the ingredients in the products I was using. I was disillusioned, and quite annoyed! I felt that I had been deceived. Hence began my search for TRULY natural products.
My mother-in-law gave me some books on aromatherapy, herbal remedies, and how to make your own skin care out of natural ingredients. Surprisingly, even these books recommended the use of toxic preservatives (which I wasn't going to touch). So I started experimenting with some skin creams and giving them away as gifts.
As I was researching how to prevent my natural concoctions from growing mold, I remembered a little bottle that I had taken on my trip to Thailand a few years before to kill bugs in the water. I tried this recipe with some other natural extracts I had been researching and they appeared to do the trick!
Eighteen months later, Alf Orpen (now a director of Miessence) approached me after a natural products expo and challenged me to create certified organic products. I had been eating organic food since my first pregnancy in 1994, and I believed wholeheartedly in the organic philosophy. I was up for the challenge!  After another eighteen months of research and development, the first products of the Miessence Certified Organic range were born."
How do you pronounce Miessence®
The correct pronunciation of Miessence® is "MY-ESSENCE"
"The "Mi" actually came about as a "my", but the spelling didn't look right! The "essence" alluded to one's true nature, from the dictionary. The basic, real, and invariable nature of a substance, containing its characteristic properties in concentrated form."

What is the meaning behind the leaf?
The Miessence logo features a single Bodhi Leaf with several points of significance to our company.
The Asiatic fig is known as the Bodhi Tree, bodhi meaning being awake, enlightened or supreme knowledge. Miessence seeks enlightenment through product development and business practices that retain our organic standards, are consistent with environmentally sustainable principles and add value to our worldwide community.
The Bodhi leaf's heart shape has symbolic parallels with love, truth and happiness.
The simplicity of a single leaf resonates with Miessence's philosophy of organic, raw, cold formulated ingredients – a true legacy of the beautiful colors and fragrances nature has provided in the plant kingdom and the healing properties that are hidden within.
Importantly, the leaf compliments the message of Certified Organic.