My Amazing 3 Day FAST-ing Fat Loss & Detox Diary & Review
If you are anything like the "pre – FAST" me, the thought of willingly going without food for a day (let alone 3 days) sounds extreme, scary, or downright wrong! Some of the thoughts that ran through my head were… "I'll feel awful, weak, or could even pass out"…. "I can't miss a meal without getting h-angry, so how will I possibly go more than a day without any food at all"…. "My body will slow its metabolism and start eating muscle – I'll be in starvation mode". Before finding fasting I never left the house without a snack and was convinced that eating all the time was the key to a faster metabolism.
Needless to say, if it weren't for the fact that I had been asked to test this new fasting support product called FAST for my beloved friend and business partner, Narelle Chenery, I would NEVER EVER, EVER have considered trying a fast. I am forever grateful that this fasting opportunity presented itself and encouraged me to do some reading on the facts and research of fasting. The more I read about fasting, the more it made absolute sense! I'll share some of my favorite resources at the bottom of this post after I tell my story. Fasting has changed my perspective on food patterns and gifted me with the most powerful health and wellness protocol I've ever experienced. Now I want to shout it from the rooftops and share this special gift with others looking to lose weight, reboot and foster health!!! Fasting is so simple, yet so much more powerful than anything else you have ever tried to feel better or lose weight.
If you are new to the concept of fasting (or taking a brief, but complete break from food)… here is a quick video on the protocol and its benefits from Miessence and a little intro on the product I am using for my fast as well.
NOW…. to my personal first fasting experience!  😯
So I was committed to my first fast and there was no turning back. I was nervous and I know many others I have worked with feel the exact same way. Having the support of something to consume and to support me during a fast was very helpful. Enter the Miessence FAST Fasting Support superfood drink. FAST keeps you within the strict boundaries of fasting mode, while helping to ward off hunger, support your liver during the intense detox, encourage fat loss and keep your bowels moving (VERY difficult to do during a fast!). To help you experience the process, I kept detailed notes and made a daily video during my fast.
Here's a bit more info on the product I used to support me during my 3 day fast.
MIESSENCE FAST 
1 tub = 3 days worth
$59.98
Want the short version? Here is my post- FAST recap on the morning of Day 4. I hope you find it inspiring because I can tell you I was blown away. So grateful to have tried fasting and to have experienced such a powerful reset that is beyond a cleanse, beyond a diet and so much more than all those things combined!
Looking for a few more details on how fasting FEELS for a newbie who has never gone without food a day in her life? Did I feel terrible? Did I cheat? What happened to my body? Some things I liked and some things that were uncomfortable? Did I lose fat? Check out my short daily videos during the 3 day fast with FAST.
How does FAST taste? What is in FAST? How does it work? Why am I doing this to myself!?
---
What happened during my first day without food? It was definitely the hardest day of the 3 and I'll tell you why. Feeling overall well heading into Day 2 and happy to be feeling lighter. Plus I'll share some motivating facts about what happens when the body is in fasting mode.
---
Description of my day yesterday and heading into this morning. Was energized enough to do a walk and am feeling really great this morning. The weight is coming off and energy is fantastic. I'll talk about what to do if you want to use fasting to lose larger amounts of weight.
---
MORNING OF DAY 4 – FAST FINISH LINE!!!!
I made it – even counting a trip through Costco and food sampling all over the store yesterday!!!! Did I cheat?! I'll explain what happened and fill you in my awesome results! I lost over 6 pounds of FAT! I know because I could see my problem areas getting smaller as my body used fat for fuel. Even more empowering is the fact that I trusted my body and it delivered. My energy is improved, my taste buds are reset (out of that sugar cycle I was in!), my clothes are fitting better and I feel so happy and light! All in 3 short days without spending lots of money or time (actually had so much extra time not eating, prepping, cleaning up after eating). I'll explain other observations and how I plan to use fasting as part of a weight and health maintenance protocol.
---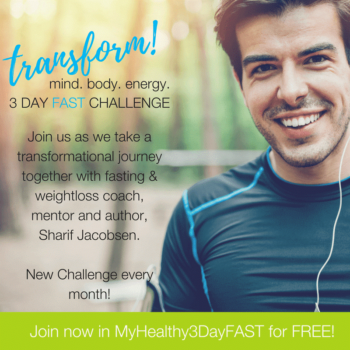 JOIN US – FREE EXPERT LED MONTHLY FASTING SUPPORT GROUP!
Ready to join me on your own fasting experience with FAST? Get your order in and I will personally assist you with joining our FREE fasting with FAST monthly support group led by Miessence's fasting expert to help lead you through the challenges and mental hurdles that can happen during fasting. A group led 3 day fast happens once per month and you will have the ability to look to others all over the world who are fasting with FAST as well for accountability, encouragement, post questions and cheer victories! Please post questions or send them my way. I hope you found my first fast video diary helpful and inspiring. I look forward to doing my next fast and looking forward to some of you joining me!
---
FASTING READING AND RESEARCH
Dr. Jason Fung, Leading Fasting Expert
https://www.dietdoctor.com/intermittent-fasting
All About Fasting
http://www.allaboutfasting.com/benefits-of-fasting.html
PubMed Fasting Article
https://www.ncbi.nlm.nih.gov/pmc/articles/PMC3200169/
Dr. Sara Soloman, Fitness and Fasting Expert
Recommended Reading By Leading Fasting Experts
1. Fasting and Eating for Health: A Medical Doctor's Program for Conquering Disease,
by Joel Fuhrman, M.D.
2. The New Detox Diet: The Complete Guide for Lifelong Vitality With Recipes, Menus, and Detox
Plans,
by Elson M. Haas, M.D.
3. The Fast Track Detox Diet: Boost metabolism, get rid of fattening toxins, jump-start weight loss and
keep the pounds off for good,
by Ann Louise Gittleman, PhD.
4. The Plan: Eliminate the Surprising "Healthy" Foods That Are Making You Fat-and Lose Weight Fast,
by Lyn-Genet Recitas.
5. Eat Stop Eat,
by Brad Pilon.