Organic Revolution ~ The Miessence Certified Organic Home Business Opportunity
I remember the feeling that came over me when I first discovered Miessence in 2005….. it was almost like the organic "product oasis" I had been looking for over the span of the previous few years. The innovative and unique products, the values placed on organic certification, non-GMO and sustainability checked off several boxes on my list. Miessence was not only a company I wanted to buy products from…. it was a company I wanted to be a part of myself! Years have gone by and I'm still just as excited about the product line and new products on the way. I've worked hard to establish my own Miessence business as an independent rep and am honored to be earning an income marketing to like minded consumers. Miessence customers are people who want the MOST pure, MOST potent and fresh (made every 30 days and shipped direct) certified organic products with integrity…. just like me!
In 2014 Miessence celebrates its 11th birthday. The company is in a very interesting phase of it's life… old enough to have proved it is a solid company with a solid foundation, a comprehensive organic line of over 75 amazing products with years in development and on-trend niche target markets. Yet young enough to have room for wide open growth as an emerging brand and network marketing company! A new website, new compensation plan, new rep training series and new packaging designs for the products have all been rolled out within the last 12 months. Miessence is poised for explosive growth and looking for passionate and hardworking reps who want to build their own Miessence businesses from  home. Could that be you?
Are you also looking for truly organic products and a business opportunity with no hype? Have you had a bad experience with a typical Network Marketing company? You may enjoy taking a look at why Miessence is different…. a Sustainable Network Marketing Company built on solid business principles and marketing to a niche market of certified organic consumers.
Ready for some details???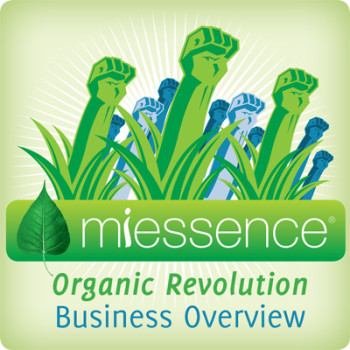 Click here to watch the Miessence Organic Revolution presentation that could change your future for the better.
The 30 minute Organic Revolution presentation will cover the following topics:
The company, the product line and the market we serve
Trends and timing
Compensation plan
The power of leveraging income
How to get started
There's a revolution happening in the way the world does business!
We believe that a successful business should:
    Offer the most pure, potent and freshly made certified organic products
    Zero harm to our environment or animals with whom we share our planet
    Maintain certified carbon negative shipping
    Ethically source ingredients
    Support and fairly pay the farmers who provide them
    Be ecologically as well as financially sustainable
    Be good for the soul as well as the body
    Provide maximum reward for effort
    Help as many people as possible
    Support your values
If Miessence is the type of business you would like to be a part of, then I invite you to listen to this special 30 minute online presentation. I'm available to discuss any questions you have on a scheduled call or via email. Use the form below to take the next steps in starting your own certified organic home business!
[gravityform id=2 name=Inquirewith me description=false ajax=true]