Get ready! 30% off Deep Greens, Buy 1 Get 1 Handsoap & 20% off/$20 Gift Certificates with $100 purchases!
Hope you are enjoying the long weekend!  Miessence has several amazing upcoming specials and I am here to share the details!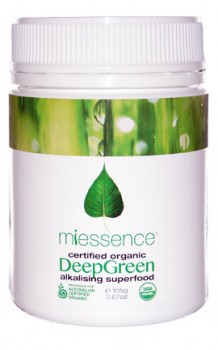 30% off Deep Greens / May 27-May 29th
In coordination with the Deep Greens educational webinar on May 28th (more info below) with nutritionist Gary Beck, Deep Greens will be 30% off! From May 27-June 2 use the code 'greenhealth' at checkout and the 30% will apply to the Deep Greens in your cart. Existing Organic Lifestyle members who already enjoy 20% off can also use this offer.
Want to learn more about the benefits of the 100% raw, certified organic ingredients in Deep Greens?
Please join us for the public webinar with nutritionist and naturopath Gary Beck!
Tuesday, May 28th
9:00 PM, Eastern
To listen in, simply click here before the start time and select "enter as guest".

Buy One Certified Organic Refillable Foaming Handsoap, Get One Free!
May 29-May 30th
Miessence Foaming Hand Soap with the antibacterial and antiseptic properties of certified organic lemon myrtle. It makes a sweet smelling and natural alternative to triclosan.
BOGO handsoap special will run from May 29-May 30th – Two days only so don't miss it! Use promo code 'lemonmyrtle' at checkout to add the free soap.
Organic Lifestyle Promotion / June 3- June 29th
Return of an old favorite! New and old customers who have not yet qualified for the 20% off for life Organic Lifestyle membership can do so with a reduced qualifying order in the month of June! From June 3-June 29th imply shop until you have $100 or more in your cart, then apply the promo code 'lifestylejune'. You will receive 20% off your order and will be prompted to enter an email and password so you can receive 20% off any and all future orders of any size.
For my customers who have already qualified as Organic Lifestyle Members you can get additional benefits as well! From June 2 – June 29th simply purchase an order of $100 or more and get your 20% OLM discount, PLUS a $20 gift voucher for use on a future purchase!!! Just use the code 'lifestylejune' at checkout after you have logged into your account.
If you have any questions on the products, comparing brands or the upcoming specials, don't hesitate to contact me. I'm here to assist you and would be happy to provide a consultation.
 Thanks for your interest in the most pure, potent and fresh products on the planet…Miessence!
To your health~ Alison