Buy 1 Miessence Deep Greens & Get 1 FREE!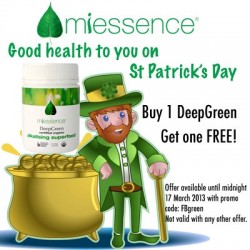 Ready for another Miessence Flash Sale? We thought so!
In celebration of St. Patrick's Day and all things green…. Buy 1 Deep Greens and get 1 FREE!
To redeem, simply add one Deep Greens to your shopping cart, then use the promo code FBgreen to add other one FREE.
Haven't heard about Deep Greens? Its a 100% certified organic and raw  formulation of superfoods with the purpose of potent alkalization and  detoxification. One look at the powder inside, you will see its potency and freshness is quite unlike anything on the market. One teaspoon of Deep Greens contains the equivalent of a 2oz shot of 5 kinds of fresh grass juice, not to mention the algae and herb ingredients! Made fresh every  30 days and shipped directly to customers. Want additional benefits and  details? Read on here…
This promo code can also be redeemed with a purchase of the Vitality Pack of all three of the Miessence superfoods. Or also the three pack of  Deep Greens. Again, just add those items to your cart and enter the  promo code FBgreen.
This offer is available to customers and reps alike until midnight on March 16th, 2013 US Eastern Standard Time. (offer says March 17th, Australian time)
Sláinte to all of you on St. Paddy's Day! (Gaelic for "to your health")
Any questions? I'm here to assist!