Vitality Challenge is HERE!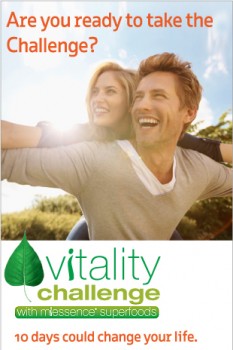 When I consult with new customers most want to know how they can harness more energy, feel their absolute best and maintain an optimum level of health naturally. Everyone wants to feel better and stay that way. Which is why I'm so excited to share the news of Miessence's Vitality Challenge Kit!
So what is the big "secret" to unleash the fullest potential of our amazing human bodies? It's really no secret. All we have to do is provide the body fuel in the form of the purest, most potent, nutrient dense food available, as nature intended. Do this consistently and in therapeutic levels and the health magic will happen…
For most people this can be challenging. I completely understand why! Be it issues with time, energy, old patterns, or budget restraints – it can be overwhelming and definitely time consuming to overhaul your diet.
Even those of us who feel we already eat well don't do it all the time or with enough food diversity. Possibly we negate our good habits by eating the wrong kinds of "healthy" foods, preparing them unhealthily, consuming too much alcohol or caffeine. Maybe intestinal health and good bacteria have been neglected, which can effect nutrient breakdown and absorption in even the healthiest of diets. Throw in stress, lack of sleep, environmental pollution and toxins around us and we ALL could use some real food support! Luckily, the Miessence Vitality Pack addresses all of that for us. Not with some synthetic vitamin pill, but with raw, organic superfood powders!
So what if flooding your body with 39 raw, certified organic vegetables, greens and fruits; 13 superstrains of organic probiotic bacteria, 3 different kinds of ultrapure blue green algae and 5 different kinds of grass juices was FAST, EASY AND CONVENIENT?!
Leave it to Miessence to make it happen! In order to allow people to preview what kind of impact raw superfoods can have on their health…. they have introduced the Vitality Challenge pack. As you take part in this 10 day journey using the three superfood formulations, you may discover changes to your body, energy levels, your well-being, and even your mind!
If you've ever wanted to take control of your health and improve how you feel through better nutrition, then the Vitality Challenge is the perfect opportunity.
The Vitality Challenge kit contains:

A clinical trial of the Vitality Challenge resulted in nearly 70% of participants experiencing clear, observable improvements to their health and well-being!

Want to read more? On our Organic Glow/Vitality Challenge mini-web site you will find:
I'm Here For You!
If you have questions on any of the benefits or ingredients of the Vitality Pack, please contact me. I have used the products personally for 3 years and have trained extensively with the product's formulators, consulting my own customers over the years. Need help comparing the differences between brands, ingredients or how Miessence is processed? I'd love to assist you.
The ingredients selected are the most potent for their intended purpose and have been carefully sundried and fermented (InLiven), juiced and low heat evaporated (Deep Greens) or freeze dried (Berry Radical).  I LOVE that the sachets are transparent… one look and you can see the raw potency and freshness.
So are you ready for the Challenge??? I would love to hear how you feel after your 10 days on InLiven, Deep Greens & Berry Radical. If you are like me…. it could be the start of life changing health!
🙂
Alison