Santa and his Berry Radical Energy Treats….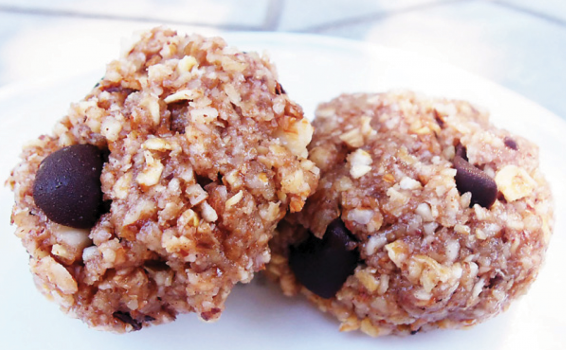 My daughter is five years old and Santa was a big topic of conversation around our house this year. She was so cute and funny trying to wrap her mind around his very important job of delivering presents all over the world in one night. When it came time for making him a treat to eat when he stopped at our house, she mentioned concern at him having enough energy to get through the night. So… we talked about it and decided on a recipe which I want to share with you below.
I had to laugh when in her note to Santa she describes the snack as "a cookie with vitamins in it." She was on the right track, but technically the "cookie" was packed with a serving of 9 of the world's most potent antioxidant superfoods, raw and organic delivering 4000 ORAC!
Now don't get me wrong….. this IS a treat sweetened with honey and carob/chocolate, but balanced with lots of healthy fats and gluten free. Santa (and the rest of us) won't feel "bleh" or crash after a sugar rush, but we won't feel we've deprived ourselves of a yummy holiday treat. Enjoy these completely guilt free.
Berry Radical No-Bake Energy Treats
Ingredients:
1 cup dry oatmeal
1 cup toasted coconut flakes (optional)
½ cup carob or chocolate chips
½ cup peanut butter
½ cup ground flaxseed
1/3 cup raw honey
1 tsp vanilla extract
Directions:
Stir all ingredients together in a medium bowl until thoroughly mixed. Let chill in refrigerator for half an hour. Once chilled, roll into balls of  about 1" in diameter. Store in an airtight container and keep refrigerated for up to 1 week. Makes about 20 balls.
Substitutions/additions/tips:
Feel free to add wheat germ in place of some or all of the flaxseed. It is not recommended to substitute agave nectar for the honey, as the honey's thickness helps hold things together.
Some other fun substitutions or additions could include: carob chips in place of chocolate chips; sunflower, almond or cashew butter in place of peanut butter; chopped, dried fruit or berries (raisins, cranberries, dates, cherries); chopped nuts or sunflower seeds. If you feel your bites are too wet, add a little more oats. If you feel your bites are too dry, add a little more honey or peanut butter.