Catch Us On Our US Tour – Become an Organic Wellness Consultant with Miessence!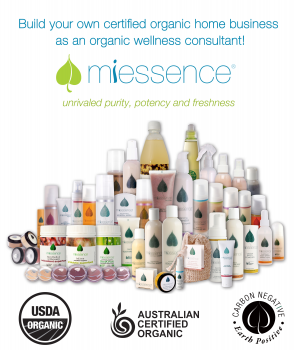 Would you be interested in attending a seminar on how YOU can build a business by becoming an organic wellness consultant with Miessence certified organics?
The Miessence line includes everything from fermented superfood probiotics and raw alkalizing grass juice powders to effective organic deodorants and non-nanoparticle mineral sunscreen. Truly unique products to support internal and external well being created to the ultimate in certified organic standards!
The Miessence business opportunity seminars are FREE and informational only… if you are interested in the details please email me directly at info@organicglow.com
Don't miss this opportunity to hear about Miessence from those who have made a career selling the most pure, potent and fresh raw organic nutrition and skincare/bodycare to people who seek it. Our team is the most successful, supportive and proactive in the company and we are here to support you in creating your own organic business! We'll have the extensive Miessence product line on hand, along with some Miessence raw, organic superfood nibbles and drinks.
Check out our Miessence certified organic home business opportunity video introduction for a good overview of who we are and what we do. If this connects with you…. connect with us!

Miessence Certified Organic Home Business Opportunity Seminars
Novi, MI – October 21 @ 3pm
Grand Rapids, MI – October 22 @ 6pm
London, Ontario – October 23 (time to be announced)
Toronto, Ontario, October 25 (time to be announced)
Hartland, VT – November 2 @ 5pm
Boston, MA – November 4 (time to be announced)
Providence, RI – November 4 (time to be announced)
New York, NY – November 7th (time to be announced)
Philadelphia, PA – November 11 @ 1:30pm
Columbus, OH – November 14 (time to be announced)
Minneapolis, MN – November 23 (time to be announced)
Charleston, SC – November 28 @ 6pm
San Francisco, CA – November 30 @ 1pm
Los Angeles, CA – December 4 @ 7pm