New Study Pinpoints The Nation's Most Toxic Industrial Plants
While many of us try to eat and drink clean, it is the unfortunate reality that the purity of the air we breathe is for the most part out of our hands. Proposed updates to EPA regulations and the diligent work of Earthjustice, the Clean Air Council, and the Sierra Club have revealed why we need to be aware now. I'd like to share the findings and also share a simple way to support your body's battle with heavy metal contamination.
Pending its approval by Congress, the EPA is working to release the Boiler Maximum Achievable Control Technology (MACT) which would reduce the toxic pollutants that most industrial boiler plants are spewing into the environment. The list of pollutants includes mercury, lead, chromium and others in amounts exceeding millions of pounds per year. Sadly, lobbyists and those in the industrial plant industry have countered by introducing bills that will permanently exempt them from the Clean Air Act. While the battle for cleaner air rages on, an environmental group called Earthjustice has just released the results of their own study which pinpoints where the worst offending industrial plants are located in hopes of raising public awareness.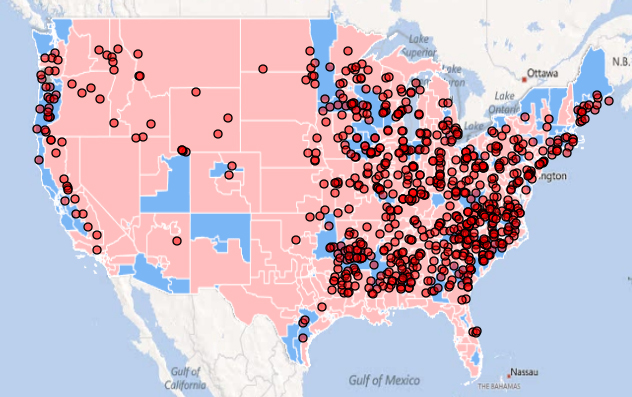 Earthjustice research revealed that the states with 50 or more potentially noncompliant boilers include North Carolina with 166, Pennsylvania with 99, South Carolina with 91, Virginia with 87, Indiana with 86, Michigan with 84, Ohio with 83, Wisconsin with 72, Minnesota with 68, Alabama with 61, Illinois with 60, Tennessee with 59, Georgia with 55 and Iowa with 51.
The Earthjustice website stated that the dirtiest of these facilities released more than 160 million pounds of toxic air pollutants like mercury, lead, benzene and acid gases in 2010 alone. The Earthjustice site breaks down by pollutant the current standards of the EPA that are being exceeded by these plants and the numbers are astonishing. The impact of these plants on the pollution of our air is immense and measured in millions of pounds.
"Many people don't know that major industrial operations often have their own personal power plants, which have not been subject to EPA clean air standards," said Earthjustice staff attorney Jim Pew. "People who live near industrial power plants pay a disproportionate cost in increased cancer risk, heart attacks, asthma and other respiratory illness. Americans have the right to know where these plants are located and the pollutants they emit. Now they can get this information easily online."
You can find a detailed lists, facilities maps and further information on the Earthjustice website. If you also live near one of the named heavily polluted areas, please be aware you are being exposed to heavy metals and other pollutants that could be effecting your health. I live in South Carolina, so this study was of particular interest to me when I read the headlines. Although South Carolina is one of the worst ranked in terms of numbers, there are a handful of states that are right there with us.
While we wait for government regulations to help reduce our exposure to these toxic pollutants, be sure to educate yourself on ways to help your body detox pollutants which can accumulate in your body.

Chlorella is one of the main ingredients in our Miessence Deep Green alkalizing organic superfood supplement for good reason. Its an excellent detoxifier associated with its ability to bind with mercury, lead and cadmium and eliminate them from our system. Its perfect for the whole family, even young children. If you are pregnant or breastfeeding, please consult with your doctor. Depending on the levels of pollutants in your system, a detox response may be too intense for a growing fetus or breastfeeding child.
If you feel you are suffering from an illness that has been caused or aggravated by industrial pollution, you may want to contact a doctor with a focus in holistic and natural healing. Diagnostic testing exists that can determine the levels of pollutants in your body, while an expert can then devise a treatment plan and monitor your detox.