Deep Greens Alkalizing Superfood New Formula Now Includes Blue-Green Algae & Chlorella!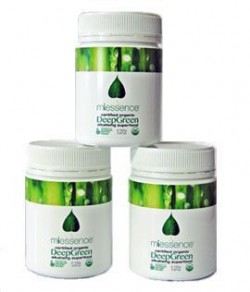 We are super excited to announce big news from Miessence! DeepGreen, Miessence's popular Alkalising superfood supplement now includes two potent new ingredients and beautiful new packaging. Deep Greens was already in a class by itself and the best has gotten better! Deep Greens v2 is shipping now!
In addition to spirulina, which is rich in vitamins, minerals and amino acids, Alphanizomenon Flos Aquae (AFA) Klamath Lake Blue-Green Algae and Chlorella have been added to DeepGreen to offer even greater health benefits.
AFA Blue-Green Algae, sourced from the pristine mountain lakes of Oregon, contains more protein, B12 and chlorophyll than any other food source. Chlorophyll is a known detoxifier and helps promote cleansing of toxins from the cells. Not to mention, chlorophyll helps rebuild and replenish our red blood cells, oxigenates the body, boosts energy almost instantly.
Chlorella is an excellent detoxifier associated with its ability to bind with mercury, lead and cadmium and eliminate them from our system. It has also renowned for its anti-tumor properties.
These algae join DeepGreen's powerful combination of super concentrated organic freeze-dried grass juice powders (wheat grass, barley grass, alfalfa grass, oat grass and kamut grass) and dark green leafy vegetables (nettle, collard, kale and parsley) powders. Not grass powders – we only use grass juice! All ingredients are 100% certified organic, raw and unprocessed with enzymes and precious nutrients intact.
Research has shown that increasing the amount of greens in our diet has been shown to help prevent cancer, detoxify and alkalize your cells, boost your immune system and give you more energy.
As part of a balanced health program, Miessence DeepGreen helps keep the correct pH balance in your body, neutralizing the toxic acids in your body, encouraging remineralization of bones and help boost immunity.
Our unique combination of alkalizing greens harnesses the very best of nature to promote benefits for the brain, bones and heart.
Miessence DeepGreen is also available as part of our popular Vitality Pack which contains BerryRadical Antioxidant and InLiven Probiotic.
And don't forget we always offer 20% off purchases of $150 or more. The discount will automatically appear once your cart amount reaches $150.
Please let me know if you have any questions on Deep Greens. I'm familiar with its benefits and actually feel them everyday! This product has been a big part of my personal journey to improved health and its truly the best in its class.
Cheers to a shot of Deep Greens every day!