DIY ~ Probiotic Hand Sanitizer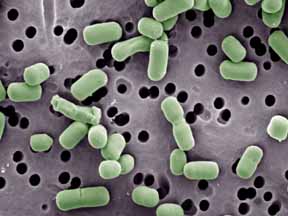 Our friend Danika Carter, an Eco-Beauty Editor at Greenwala, posted a wonderful do it yourself recipe for organic Probiotic Hand Sanitizer using the Miessence BioPure Probiotic Concentrate. SUPER innovative, proven effective, safe and inexpensive! We thought this was too good not to share!
Using probiotics (good bacteria) topically makes a lot of sense. Unlike the alcohols used in hand sanitizers (even natural ones) probiotics are extremely gentle and non-drying, truly supporting healthy skin. If you think about it, bacteria is all around us, all over our bodies inside and out all the time. Its actually been estimated that the number of bacteria living in and on the average healthy human adult outnumbers human cells 10 to 1! So the goal to eliminate bacteria is a war you will not win. The goal should really be to have more good bacteria. This concept of bacteria being a numbers game (you want the good bacteria to outnumber the bad) is quite achievable and healthy. So why not destroy bad bacteria on your skin with a super strain of good bacteria (probiotic)?
In Danika's article, she credits her friend Dani Abrahams with creating this recipe. Dani is a biological chemist and environmental toxicologist who "looks at blood work all day and really understands the effect synthetic chemicals in personal care have on people's health". When Dani was having trouble finding a non-toxic hand sanitizer, she decided to make her own. With her technical expertise and testing capabilities, she created a probiotic hand sanitizer with only three simple ingredients… all provided to us straight from mother nature. To make certain her recipe was effective, she tested it against germs and bacteria under the microscope and found it worked perfectly.
Dani's Probiotic Hand Sanitizer Recipe
Miessence BioPure Probiotic Concentrate (the "good" bacteria literally eats up the bad bacteria) If you are going to use a probiotic other than Miessence brand, be sure that the product does not need to be refrigerated. If the probiotic cannot survive without being refrigerated, then it will not be effective in your sanitizer.
Purified Water (NOT tap water as the chlorine will kill the probiotic bacteria)
Lemongrass Essential Oil (for scent and added anti-bacterial, anti-microbial, anti-fungal properties)
Combine 1/2 a cap full of the BioPure Probiotic Concentrate with 1/2 cup of purified water. Add a few drops of the lemongrass essential oil. Be sure to keep it to a few drops because Lemongrass is a potent oil – its even been shown in studies to be effective at killing the MRSA virus. If you plan on using the sanitizer on a child, you may want to switch out the lemongrass for lavender essential oil (a very gentle essential oil also with antibacterial properties that is super gentle and perfect for young or sensitive skin), or just use the BioPure and water alone.
One bottle of the BioPure will make more than 16 batches of sanitizer!
Dani also shared that you should make up small batches that you can use up quickly. Once mixed with water, the sanitizer will last about two weeks at which point you will need to discard any leftover and mix up a fresh batch.
The recipe smells absolutely amazing and we love how our skin feels soft and clean. Enjoy! Please let us know if you have any questions.