Greens for breakfast…?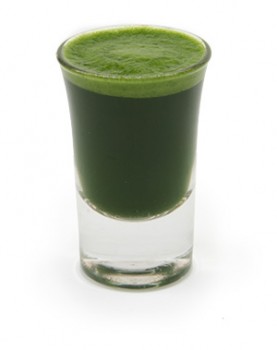 For optimal health, it is recommended that 80% of our diet be alkaline foods (ie deep greens, grasses and veggies). In order to accomplish this you basically have to work in green leafy foods at every meal of the day. Greens for breakfast you say? I'll show you how… And don't worry, its delicious!
Here and there I enjoy making my own fruit, veggie and fresh greens juices. But due to time, effort and food storage limitations, its just not possible everyday. If you've ever made your own juices, you know it takes a LOT of produce to make a bit of juice. Juicebars are a convenience, but usually quite an expense as well. On average it costs $3.75 for a 1 ounce shot of wheatgrass juice!
Enter Miessence's new product Deep Greens Organic Alkalizing Superfood! I've added it to my daily dietary regime and I wanted to share some personal experiences with you. After being  fully trained on the product, its outstanding ingredients and the Miessence proprietary processing that keeps the dried nutrients raw,  I had to say I was very excited to try it. My family and I mix our Deep Greens & InLiven probiotic superfood with a shot of apple juice and its delicious. Even the kids love it and I love that they are getting a "huge salad" condensed into a glass! The proprietary juicing and low temp freeze drying process equals  readily bio-available nutrients and nearly instant assimilation into your body. You just immediately feel good! Its been over a month since I first started the product on a daily basis and I really missed it while traveling without it. My mornings were definitely not the same without that surge of nutrition and energy. Just check out this ingredient list of certified organic blue green algae, green grass juices and leafy green veggies and you'll recognize many as things you know you are supposed to eat, but don't. Every single ingredient packs serious nutrition! I have more details on the product page if you are interested.
Certified Organic Spirulina : the nutritional punch of spirulina, a blue-green algae, is nothing short of amazing. It is the single richest and most complete whole food source of nutrients on earth.
Organic Wheat Grass Juice Powder : besides being super rich in minerals, vitamins and enzymes, its almost 70% chlorophyll which is proven to assist the body in building red blood cells. Many people find wheatgrass to be quite energizing. How? Studies show chlorophyll releases oxygen and oxygenation of your cells gives you enduring energy.
Organic Barley, Alfalfa, Oat and Kamut Grass Juice Powder: All grass juices are famously used as a tonic and energy source. Great to clear brain fog and give you pure fuel. When grown in mineral-rich, i.e. certified organic soil, they provide almost all the minerals and trace elements we need to be healthy.
The Fabulous 4 Vegetable Powders: Organic Nettle, Organic Collard, Organic Kale and Organic Parsley:all bring nutrients, minerals and phytochemicals.
Deep Greens also stands in a class of its own due to the fact that the nutritious grass ingredients (wheatgrass, barley grass, alfalfa, oat, and kamut) are NOT ground up dried grass which is how every other greens supplement product provides its grass. Miessence has developed a processing technique that squeezes the juice from the grass and then creates a freeze dried powder from the juice. This is a critical difference for two reasons. First, the juice is highly, highly more concentrated (1 tsp of juice powder = 60 ml of fresh squeezed juices). Second, grass powders are nearly useless for humans to digest. Unlike cows or horses, humans are unable to digest the cellulose in grasses and therefore all the nutrients remain "locked" in the grass powder fibers passing on through our digestive system. ONLY grass juice powder or fresh squeezed juice contain the easily bioavailable nutrients we can absorb. It is only through the Miessence proprietary juicing and extremely gentle, low temperature drying process that fully releases and protects the precious plant cell nutrients these grasses contain. So if you are like me and don't have the time or resources to juice a wide array of all your own grasses, then raw, low temperature dried grass juice powder is perfectly fast, portable and easy! It takes ALOT of grass to make a little juice, so having the concentrated dried juice on hand just makes a wide array of superfoods readily available to you every day.
An extremely concentrated source of super nutrition
1 tsp is equivalent to over 60ml of green juices (this is just counting the grass juice ingredients, not the blue-green algae or the veggies component)
100% Raw, & only processed via low temperature drying, vegan and certified organic
Gluten free / fine for celiacs
A natural source of alkalizing minerals
Formulated without fillers
NO rice bran, flax seed, beans or legumes
JUST PURE ORGANIC DEEP GREENS, nothing else but the deep greens
Wish to hear more? Check out this fantastic video on Deep Greens with the Miessence product formulator, Narelle Chenery.