Dry Skin Loves Rose Oil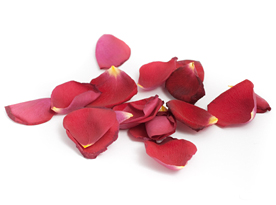 The more well known natural moisturizing properties of fruit, nut and seed oils come to mind when we think about hydrating the skin. But what about flowers, specifically the rose? Rose oil has been used as a luxurious skin moisturizing treatment for many centuries.
Think about how water droplets will bead up on a rose petal…the reason is the petal's soft wax which offers deeply hydrating benefits. So why isn't rose oil used more commonly as a moisturizer? One reason is the extremely high cost of producing rose oil. It can take over one million blooms to produce 35 ounces of the highly prized Rose Damascena oil. Thankfully, only a very small amount of rose oil is necessary in skin preparations for amazing benefits.
Ready to give organic rose oil a try? Check out these two fabulous products:

Rose Monsoon Hydrating Mist, the award winning product created by Miessence is a fabulous mix of organic rose oil and organic rose water (the potent water, left behind after the distillation of the rose oil) used to provide instant skin hydration anywhere you need it. For mineral makeup users, this product is also ideal to set the powders and create a dewy complexion before heading out the door. Rose Monsoon can also come in handy in heated/air-conditioned environments which are so taxing on the skin. Smells so heavenly you'll come up with any reason to use this spray!
The ult

ra-luxe facial Rejuvenating Moisturizer developed by Miessence especially for dry skin will leave your face silky soft, but never oily. Packed with vitamins, essential fatty acids, anti-oxidants and of course the lovely Organic Rosa Damascena Essential Oil (rose oil).