Organic Powdered Sunscreen – Easy to Apply, Natural & Effective!
Hate dealing with greasy liquid sunscreen on your face everyday? Why not skip a step and use mineral foundation with Zinc Oxide to protect your face?
Miessence mineral foundations contain the highest level of zinc oxide that can be used in a product which is 25%. That is more than double the Zinc in Colorescience Sunforgettable SPF 30, at less than half the price! Plus we use organic ingredients to complement the zinc, not chemicals.
Zinc oxide (zincit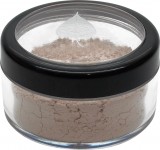 e) is a naturally occurring mineral that provides a white color base for our cosmetic products as well as providing superior sun protection with broad-spectrum (UVA and UVB) absorption. It is a soft, heavy white mineral powder that creates a soothing, protective barrier for the skin, and it recognized as a skin soothing and healing agent. It is natural sunscreen at its best, eminently safe and effective!
The powder comes in Fair, Medium, Tanned and Dark.